About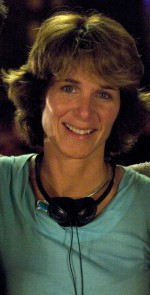 Sylvia Caminer
CEO/ Founder
Sylvia Caminer is an Emmy® Award-winning director with extensive credits in theatre, film and television. Over the past twenty years she has filmed on five continents, beginning her producing career in the independent New York film scene. Her most recent feature-length documentary which she Directed/Produced traveled the festival circuit garnering many awards and held a command performance for the President of Tanzania and distinguished guests at the White House in Dar es Salaam. The film opened in theaters in the USA in April/May 2014 and is currently available on VOD/DVD. Her directorial
feature documentary debut, AN AFFAIR OF THE HEART, received top awards at its first four film festivals and opened theatrically to critical acclaim in NYC in 2012 before wide release on Television, VOD and DVD. It chronicles the unique relationship between pop icon Rick Springfield and his intensely devoted fans exploring the impact fan adoration has on several families.
For television, Sylvia won the Emmy® Award for directing the popular Discovery/Travel Channel program GREAT HOTELS (which she also produced and co-wrote). She earned a third Emmy nomination for directing PASSPORT TO EUROPE and produced and directed PASSPORT TO LATIN AMERICA (all hosted by Samantha Brown). She has also produced various programs for TLC, WE, Lifetime & PBS and also directed/produced several web series.
Sylvia's production company, DolGer Films, most recently acted as the U.S. production company for the Harvey Keitel film, CHOSEN. DolGer Films currently has two films in release. AFTERMATH (Anthony Michael Hall, Chris Penn, Frank Whaley, Lily Rabe, Elisabeth Rohm & Tony Danza), which opened theatrically with Freestyle Releasing and the multi-award winner, GRACE. (Annika Marks & Sharon Lawrence.)
Sylvia's latest award winner, DUTCH BOOK, will be released later in 2016 and stars Keith David & Richard Edson. Additionally she produced LOVE 'N DANCING starring Amy Smart, Billy Zane, Rachel Dratch and Betty White; BREAKING POINT starring Tom Berenger, Busta Rhymes and Armand Assante; DOORMAN starring Jackie Long and Gary Dourdan. The critically acclaimed feature romantic fable BLUE MOON, starring screen legends Ben Gazzara and Rita Moreno, directed by John Gallagher. She previously teamed with Gallagher on the popular cult comedy THE DELI, (Mike Starr, Gretchen Mol, Jerry Stiller, Ice T, Iman and Michael Imperioli.) Other producing credits include MIXING NIA (Karyn Parsons & Isaiah Washington) and THE ANIMAL ROOM (Neil Patrick Harris, Amanda Peet & Matthew Lillard).
Through her active production company, DolGer Films, Sylvia is beginning work on her latest feature documentary, TWO BE ME, shooting in the USA and Canada. She is in development the crime series, THE HUNTER AND THE MYSTIC, recently selected by WeForShe as one of the top 16 un-produced teleplays. Sylvia is slated to make her narrative feature directorial debut with CHICKADEE starring Chris Cooper, Raoul Bova and Julie Kavner based on a controversial 1920's landmark case. She is also developing several other projects as a director/poducer THE EXCHANGE, an urban drama she penned with John Gallagher and BLACKOUT GIRL based on the award-winning, critically acclaimed memoir tackling the relevant topics of youth, addiction and sexual violence.
DOLGER FILMS is a full service production company and can assist with:
Scripting
Directing
Producing
Hiring crews
Budgeting
Scheduling
Union Negotiations
Casting
Post Production
Sales, Marketing and Distribution