About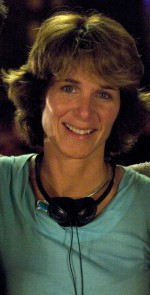 Sylvia Caminer
CEO/ Founder
Sylvia Caminer is an Emmy® Award-winning director with extensive credits in theatre, film and television. Over the past twenty years she has filmed on five continents, beginning her career in the independent New York film scene. Her most recent feature-length documentary, TANZANIA A JOURNEY WITHIN, which she Directed/Produced was a multi-award winner and opened in theaters in the USA in April/May 2014. Her previous film, AN AFFAIR OF THE HEART, received top awards at its first four film festivals and opened theatrically to critical acclaim in NYC in 2012. It chronicles the unique relationship between pop icon Rick Springfield and his intensely devoted fans exploring the impact fan adoration has on several families.
For television, Sylvia won the Emmy® Award for directing the popular Discovery/Travel Channel program GREAT HOTELS (which she also produced and co-wrote). She earned a third Emmy nomination for directing PASSPORT TO EUROPE and directed and produced PASSPORT TO LATIN AMERICA (all hosted by Samantha Brown). Sylvia is currently the series director/producer for Samantha's new PBS series PLACES TO LOVE. She has also produced various programs for TLC, WE, Lifetime & PBS and also directed/produced several web series.
Sylvia's production company, DolGer Films, most recently Produced the short film LAYING LOW which Sylvia also co-directed. DolGer also acted as the U.S. production company for the Harvey Keitel film, CHOSEN. Recent films include AFTERMATH starring Anthony Michael Hall, Chris Penn, Frank Whaley & Tony Danza and the multi-award winner, GRACE. starring Annika Marks & Sharon Lawrence. Other producing credits include LOVE 'N DANCING (Amy Smart, Billy Zane, Rachel Dratch and Betty White); BREAKING POINT (Tom Berenger, Busta Rhymes and Armand Assante); The critically acclaimed feature romantic fable BLUE MOON, starring screen legends Ben Gazzara and Rita Moreno, directed by John Gallagher. She previously teamed with Gallagher on the popular cult comedy THE DELI, (Mike Starr, Gretchen Mol, Jerry Stiller, Ice T, Iman and Michael Imperioli.) MIXING NIA (Karyn Parsons & Isaiah Washington) and THE ANIMAL ROOM (Neil Patrick Harris, Amanda Peet & Matthew Lillard).
Through her active production company, DolGer Films, Sylvia is in production on her latest feature documentary, 2 B ME, shooting in the USA and Canada. Sylvia is also attached to direct the family film, HUGS FROM GOD, the thriller, A KILLER SCRIPT, as well as CHICKADEE starring Chris Cooper based on a controversial 1920's landmark case. She is also developing several other projects as a director/producer THE EXCHANGE, an urban drama she penned with John Gallagher and BLACKOUT GIRL based on the award-winning, critically acclaimed memoir tackling the relevant topics of youth, addiction and sexual violence.
William Marquez
Executive Producer
William (Bill) James Márquez, Manager and C.E.O. of Tourme.com and Executive Producer at Dolger Films, is an accomplished entrepreneur film documentary producer and music recording producer who is a marketing expert and innovator.
Mr. Márquez, Producing credits include: O.J. Simpson – Monster or Myth? Executive Producer and Producer – Marquez Productions - 2010 37 Million Minutes – Travel Show - Executive Producer and Host – 2011 - Dolger Films Stroll Around The World – Executive Producer and Host – 2012 – Dolger Films Passionate Goodbyes – Pre-productions – Executive Producer - 2018 – Dolger Films
His Music Credits include: Artist Manic Mind – Album Manic Mind – 2005- Marquez Productions
Mr. Márquez has been featured in over 30 newspaper and magazine articles in 3 countries which include the following publications among others:
Miami New Times – September 1, 1993 – The Flap over Flipper
Orlando Sentinel - March 1995 – First in the Marketplace
Business Week Magazine – Business is Blooming, Thanks! - November 1995
Cover of Floral Management Magazine – Renegade, Building a Floral Empire around Coffee, Computers and a Car Wash - April 1996
Mr. Márquez has traveled in over 50 countries and has lived in several. Mr. Márquez is fluent in six languages and conversational in many others. Mr. Márquez currently splits his time between Europe, the United States of America and the Caribbean.
Sharon Dymmel
Writer / Producer
Three-time Emmy Award-winner Sharon Dymmel has written and produced television shows, feature film scripts, commercials, and independent documentary projects of outstanding quality since 1995.
Among other achievements, Sharon has worked on several educational television series for PBS—three of which have been recognized with Emmy Awards. She also acted as Head Writer and Story Editor for the Emmy-nominated biography series entitled More Than the Music (hosted by country music legend Charlie Daniels).
As a staff writer, Sharon penned more than a dozen scripts for the Telly Award-winning PAX-TV series Encounters with the Unexplained (hosted by Jerry Orbach of Law & Order fame). She has written a number of one-hour television specials/DVD releases including Portrait of Courage: The Untold Story of Flight 93, Heroes Among Us—Miracles Around Us (which details September 11th survivor stories), The Search for the Twelve Apostles and George W. Bush: Faith in the White House—which Frank Rich of the New York Times called "the one must-see" DVD of the 2004 election season.
She is currently in development on several new television projects as well as a slate of new family-friendly feature films for the award-winning Grizzly Adams Productions. Sharon graduated Magna Cum Laude from California State University, Long Beach with a degree in Television and Film. She has been a member of the prestigious Phi Beta Kappa honor society since May of 1994. She lives in Southern California with her amazing husband of 14 years and two children whose cuteness defies description.
Ashley Tesluck
Executive Assistant
Dolger Films, June 2017- Present
Executive Assistant
Keep everyone organized and following schedules. Manage CEO's schedule, travel, and meetings. Create expense reports and budgets. Assist with multiple different tasks needed to be accomplished in every project.
Flip Burger Boutique, January 2015- June 2017
Manager
Open or close store, counting drawers and managing staff throughout shift. Serve food and/or beverages to guests. Check with customers to ensure that they are enjoying their meals and take action to correct any problems while giving the guests a fine dining experience in a casual setting. Explain how various menu items are prepared, describing ingredients and cooking methods.
Lincoln Heritage Life, October 2013 – January 2015 Underwriter/Agent,
Specialize in Final Expense Life Insurance. Decide whether to provide insurance and under what terms. Evaluate and determine coverage and premiums. Create and schedule appointments with clients.
Millionaire Network, December 2013-November 3, 2014
Administrative Assistant
Work in the corporate office assisting the Director of Operations on all employee/personal matters. Take care of all travel accommodations for employees. Input expense reports and work on all company activities. Handle all filing and coordinate the calendars for the CEO and Director of Operations. Assist with company blog and online promotion for marketing.
EDUCATION: Wayne State University, Detroit, MI Bachelor of Science – Psychology, 2015
DOLGER FILMS is a full service production company and can assist with: Scripting, Directing, Producing, Hiring crews, Budgeting, Scheduling, Union Negotiations, Casting, Post Production, Sales, Marketing and Distribution.